Dimensions
20'L x 6'W x 4'H
Included Tonnage
8 Max Tons (16,000 lbs)
Additional Days
:
Extra Weight
:
$0.0475 Per Additional Pound
Dimensions
20' L x 6'W x 6'H
Included Tonnage
8 Max Tons (16,000 lbs)
Additional Days
:
Extra Weight
:
$0.0475 Per Additional Pound
Dimensions
18 Yard and 30 Yard Available

Included Tonnage


Additional Days:
Extra Weight:
Butte County Dumpster Rentals
Roll-Off Dumpsters based in Butte County and serving all of Northern California
We offer 18 yard and 30 yard dumpster rentals.

When your planning a project that's going to make a big pile, call us up and we'll bring a dumpster big enough to get your place cleaned up, then haul it off drop it off at a waste plant for recycling or responsible disposal.

We're dedicated to providing a prompt and responsible disposal service to Northern California. Just tell us when you need it and we'll show up on time then make sure all the waste is taken care of properly.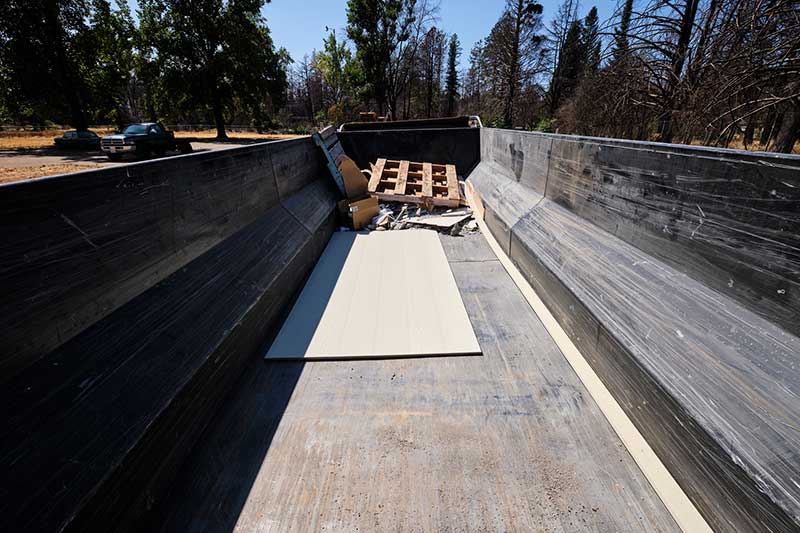 Where do I start and where does it go?
Contact us, and let us know what size dumpster rental you need. If you are not sure what size to pick, you can refer to our size guide or ask us personally. We are happy to recommend a size based on what you plan to do with it. We dispose of all dumpster contents in landfills and facilities around the county. Whatever can be recycled, will be.
When Will the Dumpster Rental Be Picked Up?
That is entirely up to you. We do completely customizable rental periods, so you tell us when you want the dumpster there and when you want it picked up. No waiting around for extra days you are not paying for, or trying to get an extension because your project is taking longer than you thought.
Things You Should NOT Do with the Dumpster Rentals
Do not fill it up past the top of the dumpster
Do not set anything too close, behind, or on top of the dumpster rental
Keep the area around it clean to avoid rat infestation
Banned List: These item ARE NOT to be placed in our dumpster rentals and if found additional fees will be added retroactively to the expense of the customer.
Hazardous Waste of ANY kind
Motor Oil or Other Auto Fluids
Automotive or Household Batteries
Fluorescent Lights, Tubes, Fixtures or Bulbs
Poisonous Plants
Liquid Waste
Herbicides, Pesticides
Propane or Other Tanks
Paint Cans with Wet Paint. Lids Must be Removed
Freon
Pressure Treated Lumber
Extra Charge Items: These items can be discarded in the bins at extra charge.

Mattresses
T.V. computer monitors
Copy Machines
Computer Components (e-waste)
Major Appliances (without Freon)
Tree Stumps
Automobile Tires (Important Notice:Tractor tires or tires over 24 inches are not accepted)
Large Furniture
Carpet Rolls
We work hard to give our customers the best and quickest service we can, but there are three things in particular that makes us a different dumpster rental service:
The Best Customer Service in the Area
We understand that communication is key to construction and pride ourselves on going above and beyond to meet our customers needs, whether that is working with them personally to troubleshoot problems on a project or meeting unusual schedule needs, we want to do everything we can to make sure you have what you need for your clean-up project.
Customizable Pick-Up Service
We will drop the dumpster rental off when you tell us, and pick it up when you want. No need to wait a week or work out an extended rental period. We work on your schedule, which means you could have one for a few days or a few months if you want.
Discounts on Extended
Use
We know that some job sites take longer than a week, especially in construction, and rentals can add up over time. That is why we offer discounts on dumpster rentals for extended periods of use. Just give us a call and we are happy to talk about special pricing for your schedule.